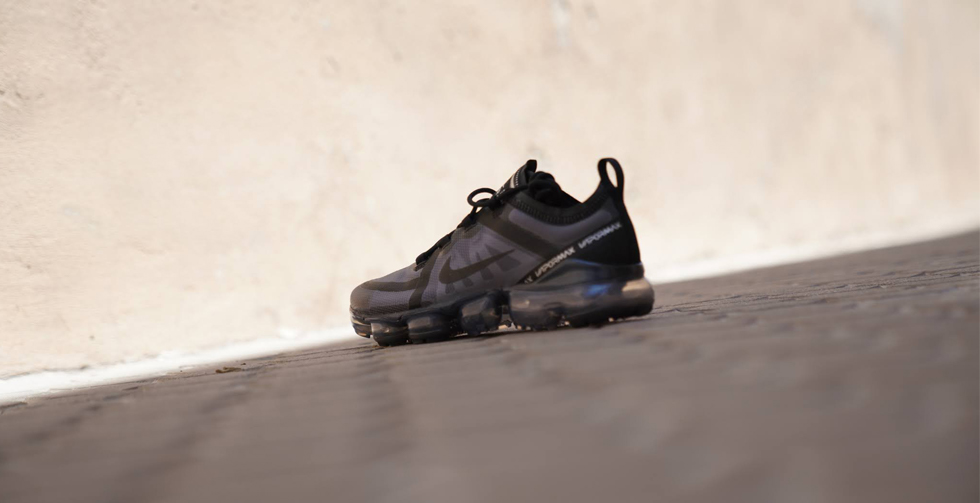 Air VaporMax 2019
Since its release in 2017, the production of new, exciting and improved VaporMax models has been relentless. The Nike VaporMax 2019 is the brand's third edition, and the design team has overhauled the original by removing the defining Flyknit technology. This decision was reached after careful testing and feedback gathered from all around the world revealed that the upper could be more supportive.
Only something groundbreaking could replace the virtuosic Flyknit; so, a fresh material called Nexkin was developed. Out went the single strings and in came a 'translucent stretch-woven material'. Nexkin is similar to Flyknit in its breathability, as well as its lightweight and sock-like foot-hugging qualities, but it ups the ante in terms of stability, support, durability and waterproofing.
Nike hasn't stopped there. Flywire has similarly been switched to an internal cage-like design stretching from the midsole up to the laces. The structure mimics the aesthetic and engineering of a suspension bridge and is visible through the translucent exterior skin. While it creates stability, it also nurtures key visual motifs on the VaporMax 2019 embellished with TPU strips across the upper. The Nexkin material supports more vibrant colourways, while the added TPU coating on the airbag gives opacity and therefore options for colour variety.
Of course, it isn't all disruption and change. The Air VaporMax 2019 retains the impeccable midsole and outsole tech, the full-length cushion, the lightweight flexible feel, and its timeless appeal to streetwear fans, sports-users and runners alike.