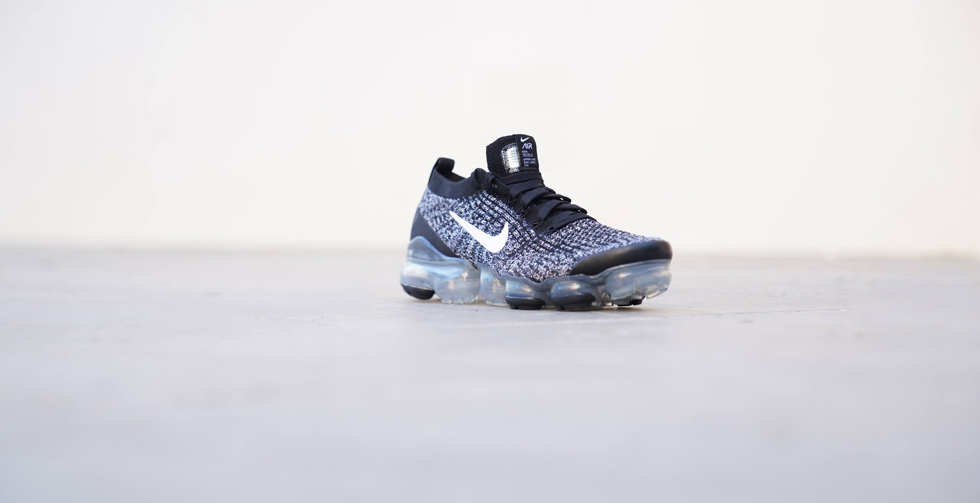 Air VaporMax Flyknit 3
In 2012, Nike launched its groundbreaking Flyknit technology: an upper made out of one single cord that molds around the foot, giving it a sock-like feel and fit. In 2017, it combined with the all new VaporMax cushioning technology to create a shoe which had never been seen before. In 2019, the VaporMax FlyKnit entered its third iteration. Rather than a big overhaul, the winning formula was ever-so-slightly and finely tuned, edging it closer to sneaker-perfection.
The Nike VaporMax Flyknit 3 boasts a rejuvenated, striped weave Flyknit pattern which is softer, lighter and tighter than before and has been further reinforced by a reworked heat overlay. A single-unit, taped heel counter brings about a new height of stability and structure, while the taped lateral and medial swoosh logos have been shifted further back towards the midfoot. The tongue sports a new tag, and the sock collar is cut higher than before to lock the foot into place.
Aesthetically, these changes have smoothed out the exterior, while retention of the intricate Flyknit technology still allows for subtleties of colour and leaves designers free to express themselves. While the shoe has sent excitement throughout streetwear circles, at their core these Nike classics remain all about running.